Ukraine said on Sunday that Russian troops were advancing in four areas in the east of the country amid "fierce fighting" but reported its forces moving forward in the south.
Deputy Defence Minister Ganna Maliar said that Russian troops were advancing near Avdiivka, Mariinka, Lyman and Svatove.
READ ALSO: Nigerian Airlines Missing In Top 20 Global Ranking
"Fierce fighting is going on everywhere," Maliar wrote on social media, adding: "The situation is quite complicated".
Ukrainian forces have made gradual progress in their counteroffensive launched last month but have so far failed to produce a major breakthrough and have urged Western allies to escalate pledges of military support.
Maliar also said Ukrainian troops were advancing with "partial success" on the southern flank of Bakhmut in the east and near Berdyansk and Melitopol in the south.
In the south, she said Ukrainian forces faced "intense enemy resistance, remote mining, deploying of reserves" and were only advancing "gradually".
"They are persistently and unceasingly creating conditions for as fast an advance as possible," she added.
The latest developments on the battlefield came after Ukrainian officials said Russia launched its first overnight drone attack on the capital Kyiv in 12 days.
Ukraine said all the drones were downed.
Grain Deal Extension In Doubt
Russia's envoy to the United Nations in Geneva said there are currently no grounds to maintain the "status quo" of a deal that grants safe passage for Ukrainian grain to be exported via the Black Sea.
Western capitals were blocking progress on reconnecting the Russian Agricultural Bank to the SWIFT banking system, Gennadiy Gatilov told the state-backed Izvestia newspaper.
"What we are seeing now does not give us grounds to agree to maintaining the status quo" on the deal, he said in the interview, published early Monday.
The deal, allowing grain from war-torn Ukraine to reach the global market, was renewed again in May but for only two months, until July 17.
United States President Joe Biden will head to Europe for a three-nation trip this week, including a NATO summit in Lithuania, to focus on reinforcing the international coalition backing Ukraine as it pursues its counteroffensive.
Ukraine's military commander-in-chief Valery Zaluzhny expressed frustration in an interview Friday at the slow deliveries of weaponry promised by the West.
It "pisses me off" that some in the West complain about the slow start and progress to the long-awaited push against Russian occupying forces, he told the Washington Post.
He also complained he has a fraction of the artillery shells that Russia is firing.
"A lot of people die every day — a lot. Just because no decision has been made yet," Zaluzhny said.
Late Sunday freedom of expression group PEN said a Ukranian writer and war crimes investigator wounded in a Russian missile strike on a restaurant last week had died.
Victoria Amelina, 37, was wounded when a Russian missile destroyed the Ria Pizza restaurant in the eastern city of Kramatorsk on Tuesday, killing 12 people, including children, and wounding dozens.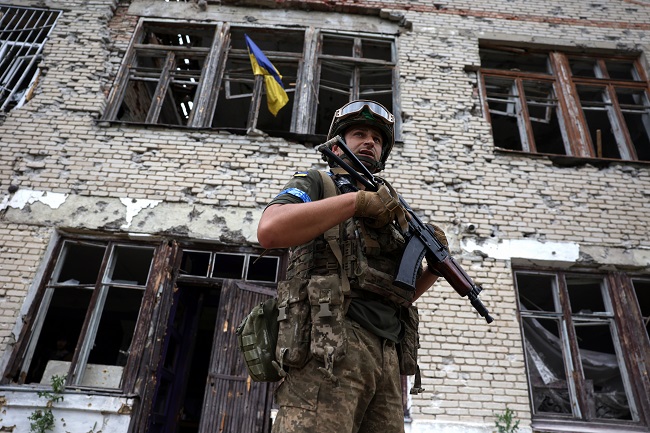 'Detected And Destroyed'
On Sunday, Ukrainian officials said they had successfully neutralised a new drone attack on Kyiv.
"All enemy targets in the airspace around Kyiv were detected and destroyed," said Sergiy Popko, head of the Kyiv city military administration.
In a separate statement, Ukraine's air force said Sunday that it had shot down three cruise missiles and eight Iranian-made attack drones deployed by Moscow's forces overnight.
"Eight Shaheds were launched from the southeast, and three Kalibr missiles were launched from the Black Sea," the air force said.
It did not provide any details on the Kyiv attacks.
Ruslan Kravchenko, head of the Kyiv regional military administration, said that three houses were damaged by falling debris in the Kyiv region.
Kyiv, which had been relatively spared from attacks since the beginning of the year, faced frequent nightly aerial raids in May.
Source: AFP